The 2015 Ford Transit Type II Ambulance
148″ wheelbase mid roof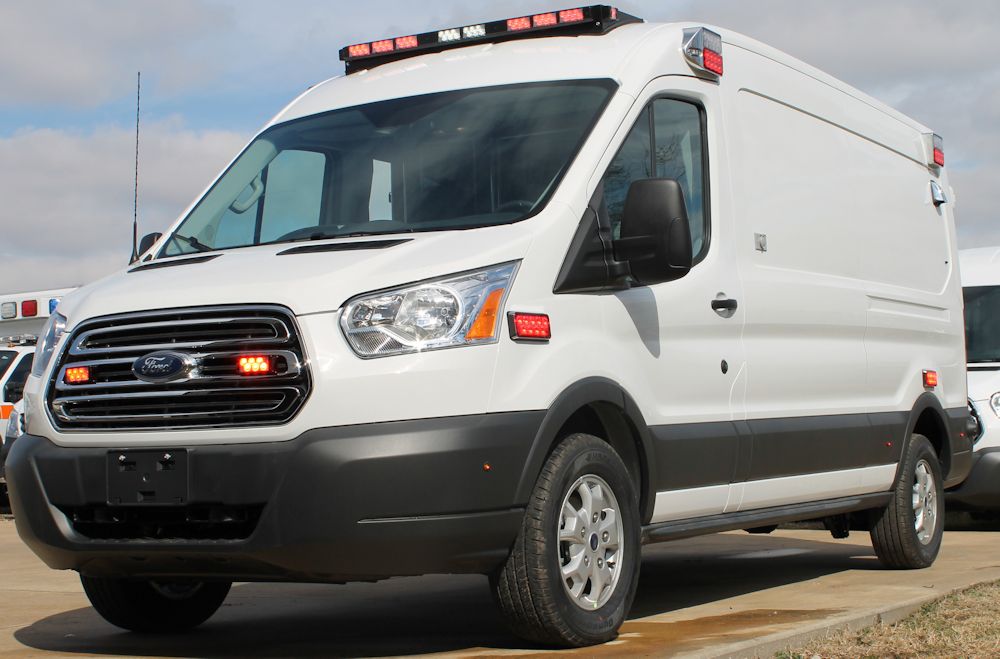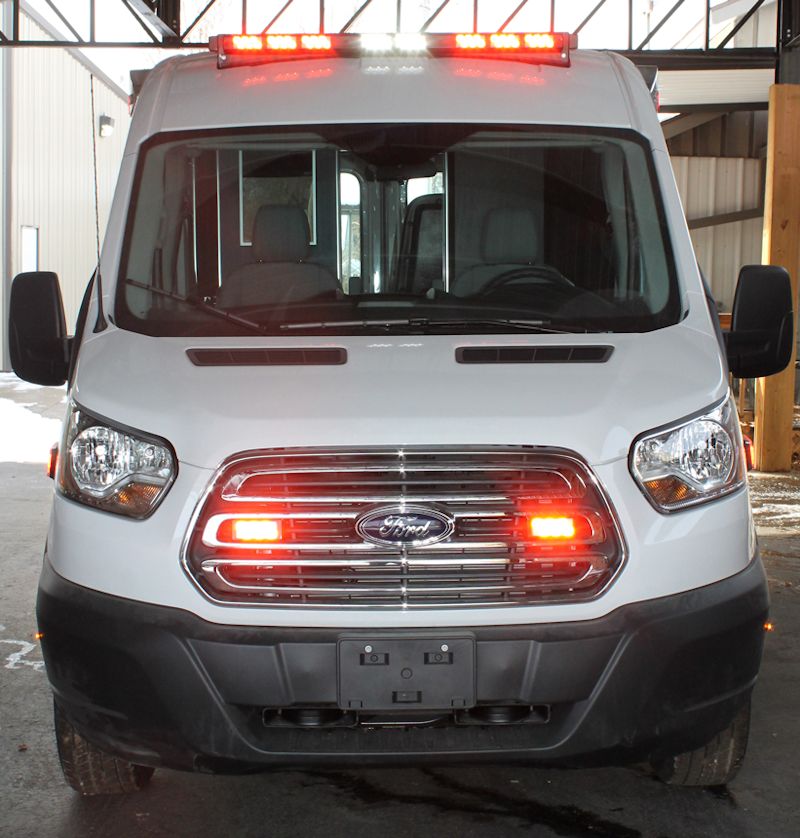 Download the information on this page as a pdf here. Download
3.7L Ti-VCT V6
The standard 3.7L V6 delivers responsive performance with 270 horsepower and 250 lb.-ft. of torque along with impressive fuel efficiency thanks in large part to twin independent variable cam timing (Ti-VCT) technology.
Features
Power windows & locks
Power & heated mirrors
Upgraded seats (10-way power)
Pewter & Black interior
Upgraded Aluminum Alloy wheels
Spare tire underneath at rear door
148″ wheelbase with a 71″ interior working height
3.7L Ti-VCT V6 Gasoline Engine
6 speed automatic transmission
AM/FM/CD Radio
Tilt steering wheel
Speed control
General Specifications
HVAC: ACC Climate Control Series Heat/Air  system.Air is vented to 4 adjustable vents mounted at the top of the street side cabinets.
ACC Specifications 22007 Series
– Up to 32,000 BTU/HR/Cool
– Up to 43,300 BTU/HR/Heat
– 580 CFM
– 3 Speed Fan
– 12 Volt Motor
WALK THRU: 16″ X 60″ walk thru doorway with sliding door. Cab side lock included and 12 x 15 window.
Flooring: LONCOIN Tear & Gouge resistant bio-safe flooring with rolled edges. Easy to clean coin pattern in a Blueflecks color.
UPHOLSTERY: Vinyl bio-safe upholstery on finish surfaces, bulkhead, oxygen storage, and head protection. Cobalt Blue in color.
IV HOOKS: Cast fold away IV hooks mounted in ceiling. One mounted over forward cot area, one mounted on curbside.
SAFETY RAIL: 6 foot stainless steel safety rail mounted off center toward street side. 1 1/2 inch diameter mounted through finish ceiling into 1/4 inch affixed backing plate.
COT MOUNT: Ferno cot catch for 35-A, 35-A+, 35-X style cots. Floor mounted catch system with 16.5 inch bar.
Electrical Specifications
INVERTER/CHARGER: Xantrex 1000 watt inverter charger with shoreline connection on drivers side. All controls on the Miller Coach action wall includes voltage indicators and load indicator. 55 Amp charger with intelligent charging and battery conditioning.  This is a standard feature.
3 110 VAC OUTLETS: 1 at action wall, 1 on 10 curbside at back of side door. Up to 2 additional outlets can be added. Duplex GFI outlets with ON indicator.
4 AUXILIARY POWER SOURCES: Currently 2 fusible sources up to 20 amp behind the action wall 12 and 2 fusible sources up to 20 amp in the front console. Additional pigtail can be added behind drivers seat.
SPEAKERS: Cast Products SA6117 15FTC Dual Siren 200 Watt Speaker Each, Under the Bumper Mount 2015 Ford Transit Cargo Van (Center Mounted Under the Bumper).
SIREN: SVP SA700 200 watt Yelp/Wail/Hi-Lo with public address and horn ring interface which can be interfaced to the radio.
CONSOLE: Between vab seats with switches on angled plane and the siren mounted flat on top. The voltage 15 meter is mounted in the switch plate. Audible low voltage indicator with visual warning light and automatic reset.
LIGHTING
LIGHTS: DOME 5 center mounted LED dome 16 lights with high and low intensity. The dome lights turn on at low intensity with side and rear door opening.
LIGHTS: SIDE DOOR CABINET The large cabinet at the side door includes LED lighting that activates on the door opening to light the contents of the cabinet during night time operation.
FRONT LIGHTBAR: Miller Coach POD with 8 forward facing, 2 side facing TOMAR SCORPION super high intensity LED lights. Standard lighting package includes 8 RED LED's with clear lens and 2 center white LED's.  KKK- Flash Pattern with Primary/Secondary. Local jurisdiction regulation lighting available all states.
CORNER POD LIGHTS: Cast housings with Tecniq 3×7 LED scene lights, Tecniq 3×7 LED emergency light red lens and LED marker light(Amber Front/Red Rear). Lights are typically installed on all 4 corners. KKK Flash Pattern.
REAR LIGHTBAR: Miller Coach POD with 8 Rear facing TOMAR SCORPION super high intensity LED lights. The standard lighting package includes 4 RED LED's  with a clear lens and 4 AMBER LED's with a clear lens. KKK-Flash Pattern.
INTERSECTION LIGHTS: Weldon Diamondback High Intensity LED lights mounted over rear and front wheel wells. The lights are mounted low for extra visibility.
FRONT BUMPER LIGHTS:(NOT SHOWN) a small 1″ AMBER light is mounted on front bumpers and are used as a master switch indicator. Designed as a reminder that the master switch has been left on when walking away from unit.
GRILL LIGHTS: TOMAR SCORPION super high intensity LED lights with clear lens mounted on grill.
RUB RAIL LIGHTS: Small 1″ lights are mounted on each side on the rub rail for extra visibility.  Red with clear lens in the rear, Amber with clear lens in the front. In non-emergency mode lights activate with marker lights. When primary emergency lights are activated the lights follow the KKK-Flash pattern.
REAR LOAD LIGHTS: (not shown) The rear load lights on the Miller Coach 2015 Type 2 Ambulance have a small footprint offer a high intensity LED light for rear load which activate by switch or when the rear door opens.
Medical
OXYGEN SYSTEM: 2 Ohio quick-connect outlets are mounted on the action wall. The oxygen bottle is mounted at rear door on the street side in valve accessible cabinet. The door removes for easy oxygen bottle changeout.
CABINETS: The main set storage area made from cabinet grade plywood and a washable bio-safe white laminate finish with large sliding doors for easy access and upper shelving which are adjustable. The corners and crevices are of the cabinets are sealed.
GENERAL FLOORPLAN