Miller Coach Company was awarded 2 Innovation Safety Feature Awards from EMS WORLD at the 2013 EMS Today Conference in Washington DC.
The First Award: Forward-Facing Seating Console and Second Patient Capacity
The Second Award: Embedded LED Side and Perimeter Lights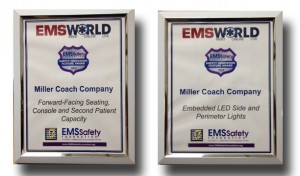 A special thanks goes to Choice Care Ambulance in Dublin, GA of the gracious use of their recent acquisition of a  Miller Coach 2013 Mercedes Benz Sprinter 170 Type II.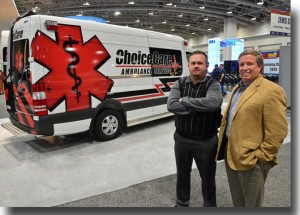 Pictured here are Choice Care CEO Phillip Jennings (at right) , and COO Clint Brantley (left) with the new acquisition.