The Type II Sprinter Ambulance is available in 2 versions on the 144″ Wheelbase
Dual Safety Seats
Click Images for Larger Version
The 144″ wheelbase Sprinter offers ample storage both in the main cabinet and at the side door. Miller Coach designs this storage to keep supplies and equipment, in place.  The traditional squad bench is removed and 2 Safety Seats with a 3-point harness included have been installed in its place. The forward-facing seat is set back enough that crew members can easily see to patient needs, from the safety of a seated, belted position. This design includes an extra wide walk space next to the cot of over 12″. Also included is the impact stable safety attendant seat with a 3-point harness.
Download the 2015 Type II Sprinter 144″ specifications here.(pdf)
Medic Station Version
Click Images for Larger Version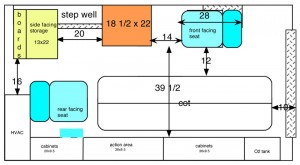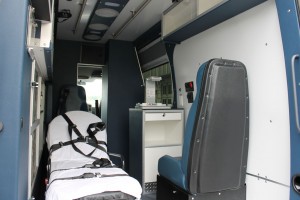 The Medic Station version includes a single seat on the curbside of the unit. An additional cabinet is installed with small bag storage facing the side door as well as the seat. There is also laptop space and provisions on the top for a crash stable defibrillator bracket of your choice. The electrical switches were moved near the seat and power provisions were made for both 110VAC and 12VDC.